White Papers
As pioneers in the home integration industry, we have learned and developed new techniques in areas ranging from television screens to integrated aquariums. In these white papers, we share some of our findings and we provide these papers free of charge to members of The Architect's EDGe.
"Outdoor Music System: When Quantity Does Matter"
In this white paper, we explore the challenges and opportunities of creating an acoustically-sound outdoor music space. To this end, we use a real-life case study to explore the intricacies of this field. In this case study, we have a backyard layout that consists of a large patio with a bistro area to the left and a large dining and lounge chair area to the right. The pool is at the back of the patio with a spa in the upper right.
"Classic Comforts: A Rugged Yet Charming Home Theater With Top-of-the-Line Audio Preformance"
In this case study, we explore a home automation project which gave way to one of EDGs most innovative, stunning and successful custom home theater designs to date. The client wanted a room where you have all the benefits of a home theater, but have the freedom and accessibility so that when you entertain, everybody can participate in it. The product was that and so much more.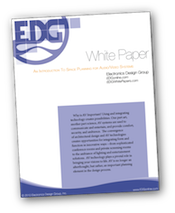 "An Introduction To Space Planning for Audio/Video Systems"
This white paper defines ten guiding criteria that can be used by Architects, designers and other electronic systems contractors in the allocation of space for electronics. The goal is to achieve a properly designed product for the end user and show how these criteria effect successful outcomes on the highest profile projects. The paper includes four case studies, noting applications from a space restricted New York City apartment to a large New Jersey estate home with ample space for a dedicated electronics room.
"Hidden Installation & High Performance"
This case study shows how Electronics Design Group worked towards meeting the client's demand of a multi-use, high performance Home Theater room with equipment that is discretely hidden when not in use.